Friends of St Francis de Sales Catholic Infant and Junior School
The Friends of St Francis de Sales Catholic Infant and Junior School is the parent/staff association (PSA) for our school. All parents and guardians of children at the school, and all staff are automatically members of the PSA.

Our purpose is to enhance the quality of the children's education and school life. We do this by raising money to help the school to cover costs for enrichment activities and resources that are not covered by the school budget. To this end, we organise a variety of fundraising events throughout the year for parents, children and staff.

We are a registered charity (Reg. Charity No. 1112318), regulated by the Charity Commission. We have a formal constitution and hold regular meetings throughout the year to plan our activities. All PSA members are warmly welcome to come along.

If you would like to find out more about joining the PSA, or if you have any questions, suggestions or feedback, you can email us at psa@sfds.haringey.sch.uk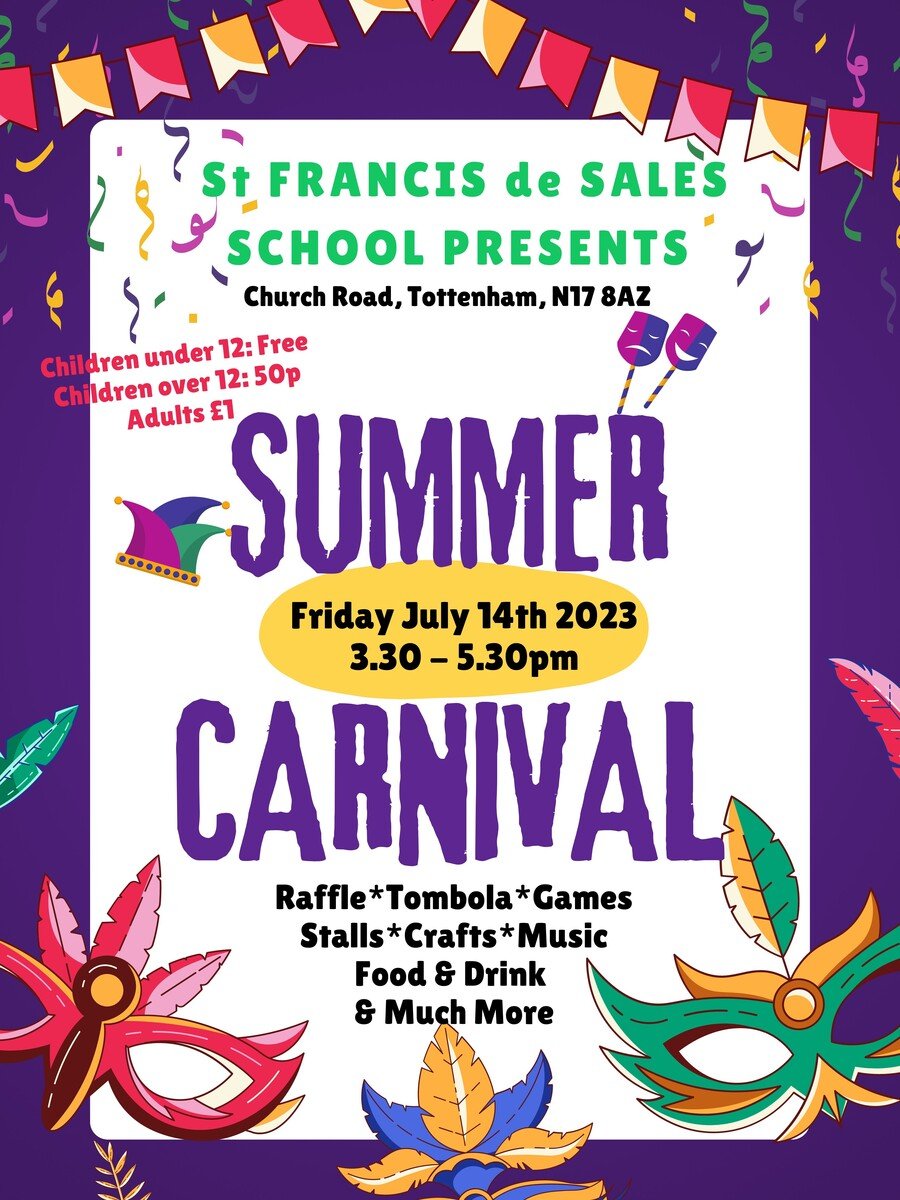 The Summer Carnival on 14th July 2023 was a resounding success! We weren't so fortunate with the weather but despite that, the children and their families had a wonderful time.
A big thank you to all the parents and staff who worked hard to make the afternoon a huge success and raise money for our children.
We also wish to acknowledge the support of the following businesses - the event would not have been possible without their generous contributions.
| | |
| --- | --- |
| AGG Maintenance | |
| Aquinas Education | |
| Asda Edmonton | |
| Advanced Tree Services Ltd | |
| Awesome Childcare | Sandra Lawrence - SFDS School |
| Beebug | |
| Big Ben Supermarket | Fore Street N18 |
| Bounce Teachers | |
| Divine Solutions Schoolwear | Northumberland Park N17 |
| KGB Southwest | |
| MFD Solutions | |
| Nu Eco Heat | |
| Olive Dining | |
| Pearly Gate Maintenance | |
| Power Hygiene | |
| Premier Education | |
| Protocol Education | |
| Sainsburys Tottenham | |
| SO Electrics | Argyle Road N18 |
| Sovereign Play | |
| Tottenham Hotspur | |
| Vision Teaching | |
| Waitrose | |